Description
Tired of blue for boys and pink for girls?
Exclusive to our Choleetos brand, this jumper is suitable for boys or girls and is an explosion of warm tones in shades of dark-red, red, cream, mustard, green, and grey. It has a beautiful Llama pattern, a hoodie and a little front pocket perfect for keeping special little treasures. Its Peruvian design handmade in a unique blend of Alpaca and Acrylic fibre is ideal for layering up and keeping your kids warm through all seasons. It is so soft-feel, comfortable and light-weight that it will not irritate your kid sensitive skin or cause itchiness.
Made in Peru
This kids jumper was individually handmade by skilled artisans in the Andean Mountains of Cusco, Peru.
Clothing Care
To care for your Choleetos jumpers hand wash or machine wash them in Delicate cycle in COLD water with a reputable wool wash, gently squeeze out excess water and lay flat to dry.
Size Guide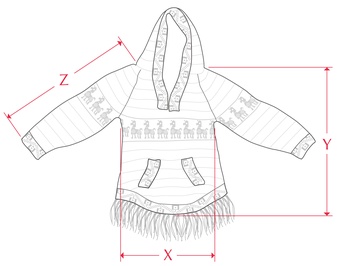 | Age | X | Y | Z |
| --- | --- | --- | --- |
| 6-12 months | 25cm | 34cm | 27cm |
| 18-24 months | 26cm | 39cm | 35cm |
| 3-4 years | 30cm | 45cm | 40cm |
| 5-6 years | 32cm | 48cm | 43cm |
| 7-8 years | 32cm | 52cm | 48cm |
Materials
70% Acrylic and 30% Alpaca more info...
Prices are in New Zealand dollars.